Can I have my baby at the Women's?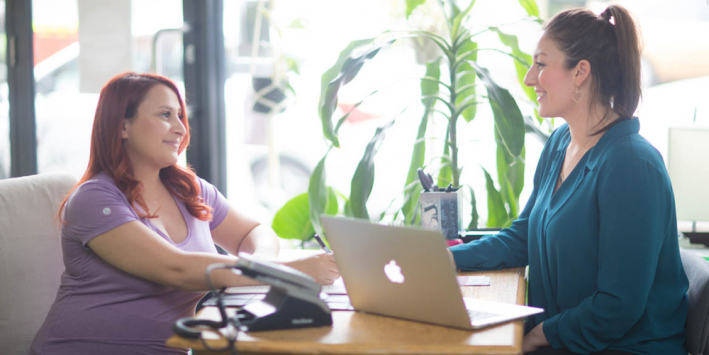 From what to do if you think you're pregnant, to booking a hospital appointment, we've got the answers to help you start planning your pregnancy care.
I'm pregnant. What should I do now?
If you are pregnant or think you might be, the first thing to do is make an appointment with your GP to confirm the pregnancy and have a check-up.
At your GP appointment, you will be asked about your health and medical history to determine if there are any issues that will affect your pregnancy.
Your GP will discuss your preferences regarding the type of pregnancy care you want, and where you want to give birth. If you want to have care in a public hospital, your GP will usually order a range of blood / urine tests. These test results will be sent with a referral letter to your local maternity hospital, to request an appointment for you.
If the pregnancy is unplanned and you are unsure what you will do, you can refer to our Unplanned pregnancy health information to help you with your decision-making.
We also have a pregnancy decision-making guide. This decision-making tool is designed to assist those who are undecided about whether to continue with their pregnancy.
It's a useful tool that explains the options and includes questions to consider in the decision-making process.
Can I have my baby at the Women's?
The Victorian public maternity system is designed to make sure that all women get the right care, in the right place, at the right time. This means, women who have uncomplicated pregnancies are cared for in their local maternity hospital. Women with complicated pregnancies need to attend a tertiary (specialist) hospital for their pregnancy care (the Women's, Monash Health, Mercy Hospital for Women, and Joan Kirner Women's and Children's Hospital).
The Royal Women's Hospital prioritises pregnancy care for:
Women who live in our local area (i.e. the Women's is their closest maternity hospital)
Women from across Victoria who require specialist care for a complicated pregnancy.
How do I book to have my baby at the Women's?
Your GP will send a referral and copies of your test results to the Women's. This referral will be assessed by the Women's clinicians and, if accepted, a 'pregnancy booking appointment' will be made for you. You will be notified of your appointment by mail.
At the pregnancy booking appointment:
A full medical history will be taken
You will complete some screening assessments
Your height, weight and blood pressure will be checked
Results from your blood tests, ultrasound scans and other investigations will be reviewed
The suitable options for your pregnancy care will be discussed.
Care options
Check our web page Pregnancy care options for more about your care choices.
---
Related information
---