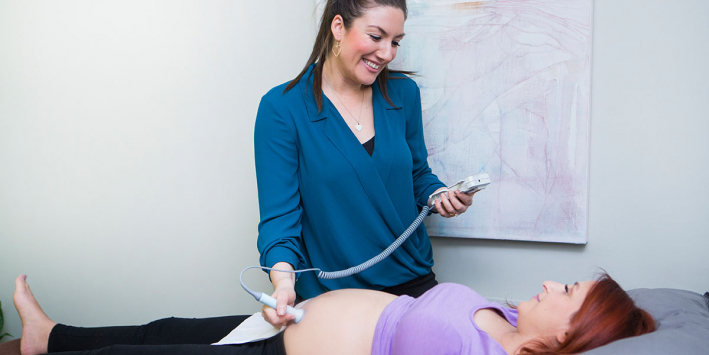 With Shared Maternity Care, your pregnancy care is shared between the hospital and your local community clinician.
You can choose one of our 750 Shared Maternity Care affiliates – who are accredited GPs, midwives and obstetricians – to provide the majority of your pregnancy care in the community. Your baby will be born in hospital and you can access other specialists and allied health if needed.
Why choose Shared Maternity Care?
Shared Maternity Care is popular for many reasons:
Location – You can access care closer to home or work, to minimise travel time and hassles with parking.
Flexible appointment times and less waiting – You can often choose appointment times that are more convenient for you (e.g. evenings and weekends), with less time waiting.
Relationships – You can see a health professional who you already know and trust, and after pregnancy, you can continue to see them for your own, and your family's health needs.
Cultural connections – You can choose a Shared Maternity Care affiliate who has a connection and understanding of your cultural and language needs.
Am I eligible for Shared Maternity Care?
Your suitability for Shared Maternity Care can be discussed at the start of your pregnancy. If you are a healthy person with a normal pregnancy, then Shared Maternity Care is probably suitable for you. People with specific medical and obstetric conditions may not be suitable for Shared Maternity Care, or may need additional hospital visits and specialist support.
Even if your last pregnancy was complicated, or you have had a previous Caesarean section birth, you might still be eligible for Shared Maternity Care for other pregnancies.
How can I organise Shared Maternity Care?
When you attend your first pregnancy appointment at the Women's, let your midwife know that you want to access Shared Maternity Care. If you are suitable, the Shared Maternity Care Coordinator at the Women's will make arrangements for your Shared Maternity Care registration.
When you are registered for Shared Maternity Care you will be given a folder to take to all your appointments. This is how the doctors and midwives communicate about your care so it is important you take it to all your community and hospital appointments, including when you come in to have your baby.
Where can I find a Shared Care affiliate near me?
View the map below of our approved and accredited Shared Maternity Care affiliates, or alterntively, you can download the list in PDF format.
You can contact a GP / Health Clinic directly and ask them whether they are accredited to provide Shared Maternity Care.
You can call the Women's Shared Care Coordinator (see Contact details).
Shared Maternity Care Affiliates List - Map View:
If I choose Shared Care, will I still visit the hospital? 
Yes. You will have at least one hospital visit before you give birth, with additional hospital visits as required. The rest of your appointments (around seven) will be in the community with your Shared Maternity Care affiliate. The total number of visits depends on your needs.
How much does Shared Maternity Care cost?
If you hold a Medicare card and your Shared Maternity Care affiliate bulk-bills, your appointments will not cost you anything. (Many Shared Maternity Care affiliates bulk-bill maternity care, even if they usually charge people for other types of visits.)
If your Shared Maternity Care affiliate does not bulk-bill, you will be required to pay the difference between the fee charged and the Medicare rebate – this amount varies and may cost you between $10 and $50 per visit. Many women find this is cheaper than parking costs, childcare costs, or the loss of income associated with missing work to attend hospital appointments.
To find out the costs of Shared Maternity Care, you can contact the Shared Maternity Care affiliate directly or the Women's Shared Maternity Care Coordinator.
Does the Shared Care affiliate work at the hospital? 
If you choose Shared Maternity Care, you will see your GP, midwife or obstetrician in a community location, such as a medical practice or community health centre. Most Shared Maternity Care affiliates do not work at the Women's, but they do attend the hospital for training and accreditation.
Is the quality of pregnancy care in hospital better? 
All of our 750 Shared Maternity Care affiliates have met our strict accreditation requirements, and they follow comprehensive clinical guidelines. Affiliates are also supported by the Women's and can access additional, expert advice when it is needed throughout the course of your care.
What if I need specialist care?
You will have access to all the hospital care you need. Your Shared Maternity Care affiliate can contact the Women's at any time to discuss concerns about your pregnancy. Sometimes, a visit to the Women's may be required. If you develop problems during your pregnancy, Shared Maternity Care may no longer be suitable and your care will become hospital-based. This will be tailored according to your needs, to make sure that you are always seen by the most appropriately skilled clinician.
If you need additional expertise from another health professional (e.g. a physiotherapist or dietician) your Shared Maternity Care affiliate or the Women's Shared Maternity Care Coordinator can arrange this.
Can I change my mind?
Yes. If you decide that Shared Maternity Care is not working for you, you can swap to hospital-based care at any time (or vice versa). Just contact the Women's Shared Maternity Care Coordinator to let them know.
Who can I talk to about Shared Maternity Care?
Our Shared Maternity Care Coordinator would be very happy to answer any questions you might have about Shared Maternity Care. See Contact details on this page.
---